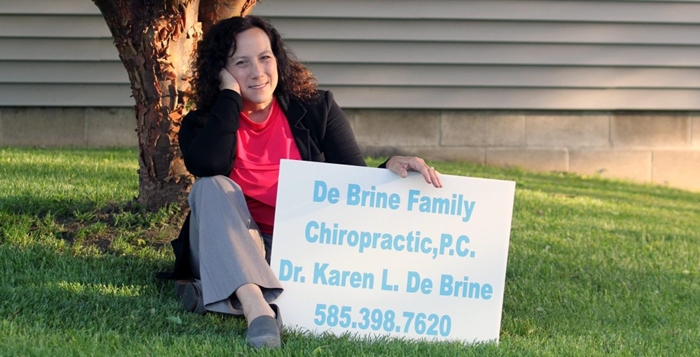 Dr. Karen L. De Brine was born and raised in Greece, NY and is an alumnus of Greece Athena High School. She completed her pre-chiropractic studies through SUNY Brockport in 1985 and received her Doctorate of Chiropractic from the New York State Chiropractic College in 1988 when the college was in Long Island. She continued her education by participating in a Diplomat Program in Chiropractic Orthopedics from the National College of Chiropractic in 1993 and then earned a Bachelor of Science in Liberal Arts Studies from the New York State Regents College in 1995. More recently, she graduated in December 2012 with her M.S.H.A.P.I. (Master of Science Degree in Human Anatomy and Physiology Instruction) through the New York Chiropractic College, with honors.
Dr. De Brine is a cancer survivor 12 years post-treatment for lymphoma. She brings this life experience with her into practice as she helps her patients who are going through their own cancer scares, battles, and survivorships. She understands how radiation and chemotherapy treatment can affect their musculoskeletal and psychological heath, as well as the physiological effects the treatments have on the body and adapts chiropractic treatment in order to achieve realistic goals. Dr. De Brine is very open to discussing her experiences with cancer and this has helped many of her patients, along with their family and friends, cope with this devastating illness.
Dr. De Brine vows to provide only the highest quality of chiropractic care for her patients and their families. She has been trained in a variety of chiropractic treatment techniques, and selects those that will best enable her patients to reach optimal health as quickly as possible. She will also work in conjunction with Primary Care Physicians and other doctors to ensure that patient care is handled with sensitivity and conscientiousness. Most importantly, she is not only committed to the treatment of symptoms, but also to the maintenance of the body's natural ability to heal itself and to patients' overall health and wellness. To this end, we offer a variety of holistic health services.
Outside of the office, she enjoys listening to her son play live music whenever she has the opportunity. She enjoys oil painting, refurbishing her historic home, yoga, biking, hiking with her dogs, sewing with her daughter, and spending time on her Crownline on Canandaigua Lake.
If this is your very first chiropractic appointment, you likely have a lot of questions.
We want this to be a relaxing and comfortable experience for you.
What to Expect on Your First Visit
On your first visit, Dr. De Brine will examine you, performing complete orthopedic and neurological exams and a chiropractic analysis. As a chiropractor, she is concerned with your nerves and stress to your nervous system.
There are three types of stress to the nervous system:

Mechanical/physical – injuries, trauma, or wear and tear

Chemical – from the environment, food and drink, and medications

Hormonal/emotional

Nerve stress affects the motor division of nerves, which can lead to muscle spasms and sensory problems, like numbness, tingling, and burning, as well as autonomic nervous system issues.

After the initial exam, Dr. De Brine will let you know where the stress is located in your spine and determine the best technique to remove the spinal stress. You will have your own unique treatment plan based on the examination findings.

A chiropractic adjustment typically involves applying a high velocity, low magnitude thrust to a vertebra, with the goal of restoring proper motion and relieving pressure on the nervous system. There are many different chiropractic techniques that can be used, ranging from osseous manipulation to non-force techniques with a gentler touch.

Chiropractic care is generally not painful, as Dr. De Brine is highly-trained to use gentle, effective techniques.

What You Should Bring with You

For your first visit, you should try to prepare and/or bring as many of the following items:

Insurance card

Detailed history of your onset of pain

Description of you've previously done for treatment and how effective it was

Name(s) of any other doctors you've seen for your current pain/injury/ailment

Any diagnostic tests you may have had, including x-rays or MRIs, as well as information about where they were performed

List of current medications

Description of any other medical history or illnesses

Description of your family medical history

90% of the stimulation and nutrition to the brain is generated by the movement of the spine. A body in motion stays in motion and chiropractic care gives relief on so many levels.
If would like to schedule a chiropractic appointment with Dr. Karen L. De Brine.
Call (585) 398-7620 or if you would like even more information click the website link.
De Brine Family Chiropractic is located at:
668 A Philips Road
Victor, NY 14564